International Women's Day With Jewelry Made for A Gem Like You
Ifat Oved's Collection is Fit For the Contemporary Queen With Values That Matter in 2023
Shine Bright Like A Diamond: Because You Deserve To Look and Feel Like Your Best Self This Women's Day & Always
It's a rare occasion that the world celebrates all women. And then, International Women's Day comes around. It's not mother's day, it's not daughter's day, it's not a day that locks any female into a gender role. It's an opportunity for every female to look in the mirror and say, "I am a queen" – young, mature, mother or child, career-oriented, a homemaker, or both. We value every aspect of what it means to be a female in today's complex society, and believe women are the lifeforce for so much of what's beautiful in modern society.
Ifat Oved brings a refreshing collection of 6 pieces of jewelry that speak to modern women's values, the perfect treat for you to celebrate this International Women's Day. Authenticity is the name of the game. We're here to empower you to adorn yourself in jewelry that reflects values dear to your heart. From independence, to femininity, strength, self-worth, and professionalism, check out these six pieces from our diverse collection. Each one embodies the essence of real women values in 2023, with their own unique look and feel, the finest quality materials, and unparalleled design and craftsmanship.
Gone are the days when a girl needs to depend on anyone for anything. Today's confident divas, (coy and quiet, or extroverted and gregarious), can do it all. Ladies, we make money, we build empires, careers, and choose the lifestyle we want with total self-sufficiency. You're free to be whatever you want to be, standing tall and proud at 5"2 in heels, or 6 feet in flats.
Now, choose this perfect piece of jewelry from Ifat Oved's collection, a ring designed by a woman for women. Oved herself embodies female independence at its finest, a mentor and role model to each of us in balancing a successful career, and a powerful matriarch with her family always at heart. This luxurious open emerald ring oozes independence, with bold design, precise lines, curvature, poise, and a stunning pear-shaped emerald stone focal point. The powerful green shade speaks loud and clear to today's independent 21st century woman – versatile and running her own show. With a captivating style, high-end materials, classic color blend, and quality workmanship, put this ring on any finger and project the potential for growth, money, progress, and the innate independence within you.
Open Emerald Ring – 3.41ct stone, pear-shaped, projecting independence, poignant green essence, unique design, decorative diamonds and 14k fine metal shank. Perfect for any occasion and any modern independent woman.
The modern warrior princess doesn't have to express her femininity with a "pretty in pink" look locking her into beauty stereotypes. Today, femininity is a natural phenomenon to anyone born female. And choosing a piece of jewelry that speaks to the various dimensions of your feminine side, while projecting a lush womanly touch, is simple with these elegant multi-hoop earrings from Ifat Oved's collection. With her passion for diversifying the look of femininity, Ifat's earrings are the ideal blend of modern class, sexy, and undoubtedly perfect for a clean, smart and feminine look for any occasion.
Focusing on female empowerment in this gorgeously shimmering set of earrings, Oved inspires every woman to be her own definition of feminine, as she believes it's your right. Get these much coveted earrings for a simple shine and graceful edge, a popular choice for the women seeking superior quality rose gold and some shiny frost, with just shy of 3.5 carats of diamonds.
Three-Hoop Diamond Strand Earrings – 3.48 ct diamonds embedded in a graceful 14 kt rose gold setting. If you believe that femininity is what you make it, this pair of stunner are perfect for your ears and directly speak to your values.
Women are strong creatures – possibly some of the strongest in the history of mankind, from Joan of Arc, to Margaret Thatcher, to biblical heroines like Queen Esther liberating the Jewish people from annihilation. We bring life to the world, bear children, and take a stance of strength and courage in every part of our lives, personal and professional.
Wearing just the right ring to reflect your true strength was precisely the idea inspiring Ifat Oved when designing this amethyst and emerald stunner, set in brilliant 18k white and rose gold, dripping in circles of diamonds of various cuts and sizes. It celebrates the relentlessly strong females, each element appreciating our incomparable power to conquer any challenge. The complexity of the main stone's purple tone parallels the complex and undefeatable strength of the contemporary female. Oved knows how much undying bravery, physical, mental, and emotional strength it takes to succeed as a woman with a thriving career, while also juggling motherhood and family life. Wear this vibrant violet-toned ring this International Women's Day, and be your unstoppable, strongest, and best self.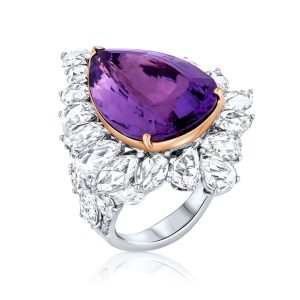 Amethyst and diamonds pear – shaped ring blends the shine of over 8ct of glittering diamonds of various cuts, pear-shaped marquises, with this daring design reflecting the ultimate level of female strength, set in 18k white and rose gold. Indulge in a piece that will empower you to take the world by storm.
Cliches aren't always original, but we love the truth that they often carry. Ifat Oved believes that every woman must love herself before she can love anyone else, and she focuses on caring for herself to ensure she can care for every aspect of her business and personal life. A woman's self-love and self-worth are critical to survive and stay optimistic in today's competitive business landscape, with the pressure of meeting family expectations always on the horizon at the same time.
The soft, simple, sweet, and quiet design of this diamond halo necklace, laced with diamonds in an 14k white gold setting reflects just the quintessential self-love and worth we believe every woman needs and deserves. With this piece, any eye grazing your neck while you're wearing this shiny trinket of soft-spoken luxury will know you are royalty, whether you wear a crown or not. Oved's design charmingly adds a touch of sparkle and shine to your look that tells everyone you are worth it – today, on International Women's Day, and every day.
Diamond Halo Necklace – With a neat and dazzling outline of white diamonds, this heart-shaped sapphire halo pendant necklace tells everyone and anyone about your self-love and worth, set in 14k white gold, the perfect gift to celebrate you this International Women's Day.
Nothing says fiery passion for your career with a not so subtle hint of powerful professionalism like this necklace, embellishing your collar bones, with rubies and diamonds dripping in luxury and an 18k rose gold setting. Welcome to the contemporary career woman's world.
Ifat Oved wants to personally take her hat off to each of you ladies for putting your best foot forward to maintain, project, and value the utmost of professionalism in an increasingly intense and competitive world of commerce. With this necklace, the career woman of 2023 faces any business challenge head-on, whether it's strutting the catwalk, or shaping business strategies like Meryl Streep in The Devil Wears Prada. This stunner has all the bang of a true girl boss and vixen taking the business world by storm, with professionalism and raging sophistication all bundled up in one.
Ruby And Diamond Choker – Rubies and diamonds make love for the professional career woman in you, with this necklace set in 18k rose gold, a piece that will empower you to conquer any business challenge while captivating any set of eyes seeing this piece around your neck.